Arnica for Recovery – Kitchen Witch Series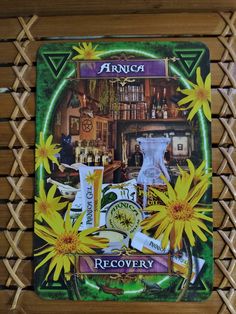 Good morning tribe! Ok, technically it's not morning where I am but it's morning to me 🙂
So I bought the "Witches Kitchen" oracle cards to help me learn more about herbs and foods for healing. Every Monday I'll showcase a card from this deck.
Please be careful when trying any herbal remedy. Health information for arnica can be found here: https://www.healthline.com/nutrition/arnica-homeopathic#health-claims
Today's spotlight is on Arnica, keyword "recovery"
GUIDANCE FROM THE BOOK
"It's been a struggle to make a comeback and you're still reeling from the blow you received. You may be wondering when life will go back to normal. You are feeling bruised and hurt and are in desperate need of some urgent TLC. Convalescence is the key; give yourself time to mend. Lack of control over the symptoms that are plaguing you can be frustrating so allow me to assist in gently supporting your recovery process. My rich source of manganese will facilitate your healing of any traumatic injuries ranging from sprains to a bruised soul. Take me as a cardiac tonic, and I will support your weary heart. Stop trying to go it alone; just rest in the comfort of knowing that I will nurse you effectively to the full recovery you've been longing for.
RECOMMENDED RECIPE
Salve– for sprains, bruises, pain, inflammation.
Using a double boiler pot, add a 1/4 cup of dried arnica flowers packed in tightly with 1/2 cup of a carrier oil of your choice. Simmer the mixture for an hour. Now strain the flowers from the oil into heat-safe glass container. Add one tablespoon of yellow beeswax pellets to the strained arnica oil and place back in the double boiler. Once the pellets have melted, pour the mixture into a small container and allowed to cool before using.
ARNICA REVEALED
Known as the fall herb, people made sales from arnica after observing injured mountain goats eating the wildflower. It has likely been used as a medicinal plant ever since the Middle Ages."
Today's Crystals:
Today's Deck: