Bast – A Message for Collective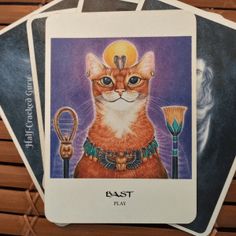 Why so serious? Yes, there are grave and important things to be attended to but I promise, they will be done better if you are able to approach them with a light-heartedness.
Sure, there may be nothing fun about your tasks. They may be mundane or frustrating, even upsetting, but your attitude towards what needs to be done can make a huge difference. Put on some music that makes you happy, switch up your routine or your environment, make a game out of it. Split your big tasks into smaller sections and reward yourself when you've completed each section.
When you take your breaks, make them count! Don't just take a breather while you contemplate your next move. Do something that makes you laugh, do a little shimmy, listen to a song that pumps you up.
This works even better if you make a list of happy things you can refer to, because decision paralysis (aka analysis paralysis), is a real thing. Make a playlist of sounds, images, smells, tastes, and textures that refresh and revive you.
Let a light heart help ease you through your heavy times <3
Today's Crystals:
Today's Deck: