A Message from the Universe – Imagine (reversed)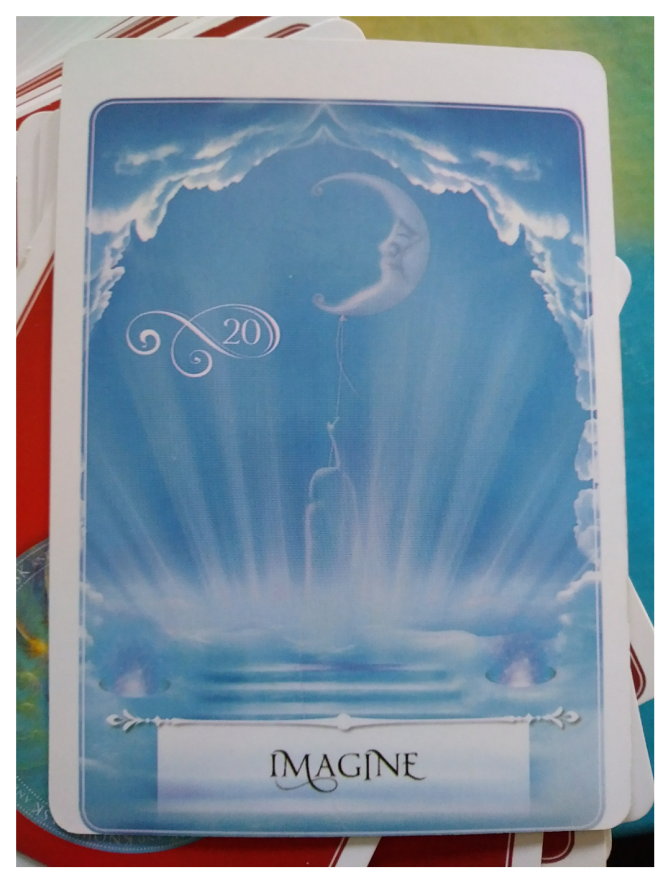 A Message from the Universe – Imagination and visualization are a vital part of setting goals and making them a reality. The reversal of this card indicates you are imagining the wrong things.
If you allow your fear to create stories about what could go wrong, you can be sure that will be the reality. If you risk nothing, you gain nothing.
Maybe you're setting unrealistic goals. We should imagine the improbable because it opens the door for new ideas but our goals should be grounded in reality.
Speaking from experience, self doubt and practicality go hand in hand. I worked for decades in the business world and I was very good at what I did but it was a hamster wheel where responsibilities grew exponentially while pay raises made very little difference. The more I was "appreciated" at work, the less I had to put into my life. You know, as much as the man might tell you they want you to have that balance, they want people whose work is their life.
I tried anyway, paying dues and all that. I got sick and pushed through it even harder, while the harder I pushed, the more I lost. Finally, unemployed, having to move in with family and plan for surgery, I was unable to submit any more resumes until after I healed and had to figure something else out.
That's where Half-Cracked Guru was born. I realized I could do readings until the surgery and then once again when I started getting better. With hands tied otherwise and no rat race to occupy my brain, I was able to put time and real focus on writing, my first love.
But that's kind of a lie. A lot of my focus while recovering was figuring out my game plan to attempt to get back onto the hamster wheel. Then I realized if I did that, Guru would have to take a back seat.
I then started looking at what I was doing as something that might actually sustain me. I wrestled with self doubt a lot, still do from time to time but once I looked at it rationally, I understood that I obtained a lot of skills and had an entire universe of information available to me. If I applied that to Guru instead of giving it all to someone who only appreciated numbers, I might very well create something wonderful and profitable.
I'm still working on the profit part but every day I learn and build more onto something that allows me to shine my light into the hearts of others.
It's time for you to shine too. Start by imagining there could be better despite, or maybe even because of, your perceived limitations.