Quick Draw Daily Oracle Cards ~ Too Strong for Too Long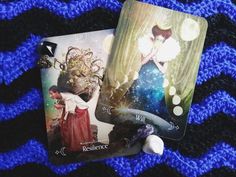 Today's oracle cards tell me that you've fallen and got back up on that horse countless times and will continue to do so.
Your determination and dedication are to be admired but there are times when you might try a little too hard for something that isn't right for you. You might look into removing unnecessary responsibilities from your plate; this will make your important tasks a little easier. "No" is a beautiful word. give some of those burdens back to the people they actually belong to. Your manifesting abilities are on point so make sure you focus that intention on what you want instead of what you don't want.
Today's Crystals:
Click a link to see properties of the stones and/or make purchase
Today's Deck: