Quick Draw Daily Oracle Cards ~ What Are You Waiting For?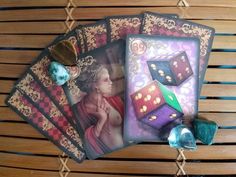 Today's oracle cards urge you to take a leap of faith.
While a roll of the dice can produce either desired or undesired results, today is a good day to jump in. No more dipping your toes and over-analyzing all the details, you won't know the outcome until you actually put yourself out there. Again, you will make mistakes and feel straight inadequate at times, they're just growing pains. Everything truly good and beautiful was born of risk and even a little chaos.
Today's Crystals:
Click a link to see the properties of the stones and/or make a purchase
Today's Deck: