Quick Draw Daily Oracle Cards ~While You're Not Looking…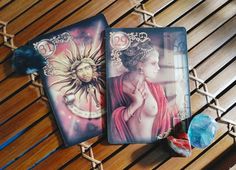 Today's Oracle cards are highlighting the fact that blessings and success are sneaking up on you while you're distracted with other things.
If you check your email, snail-mail, and bank accounts then you might see a little unexpected item that was just what you needed today. It may only be a trickle right now or tiny pieces of a giant puzzle but it gives you a taste of things to come. Keep swimming!
Today's Crystals:
Today's Deck:
Gilded Reverie, Lenormand Deck