Quick Draw Daily Tarot Cards ~ From Wounded Warrior to Queen of Wands!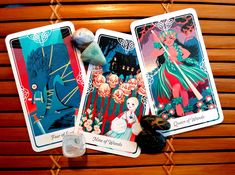 Today's Tarot cards confirm that a long period of healing has come to an end.
You may not be seeing a huge change on the surface of things for awhile but you'll be able to feel it if you ignore that voice in your head that criticizes everything. You're building a strong foundation that is sustainable and that takes time. Right now, you might have a ton of ideas swirling around your head regarding your career or life path. Don't try to force them into completion just yet. Stay open to things that are different from what you planned because that is where the miracles happen. You are hella magnetic today!
Today's Crystals:
Today's Deck: