Sheila Na Gig – A Message for the Collective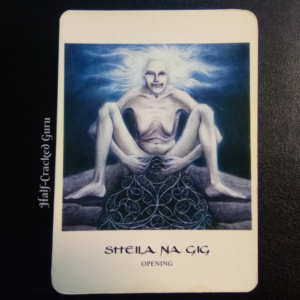 Sheila Na Gig's message is that every period of contraction must be followed by a period of expansion, and vice versa. It's time to start opening to the world outside of you and seek out new experiences or even a new life.
Obviously, the pandemic has a big influence on our cycles of expansion and contraction. We have been forced to contend with our inner selves and find ways to navigate our world and connections with an acceptable distance. Of course, we're not quite ready yet to go hug random people, but we are more than ready to use what we have learned to forge the new paths we have been dreaming about in our period of quiet contraction.
What are you waiting for? If you're waiting until things are perfect then you will be waiting for the rest of your life. You will make mistakes, you will have times of struggle, and times of breakthrough. You will cultivate your path moment by moment and find yourself closer to the prize even as you take a few steps back. No more excuses, time to put yourself out there!
Today's Crystals:
Today's Deck: