Tarot/Oracle Card of the Day – 7 of Cups (reversed)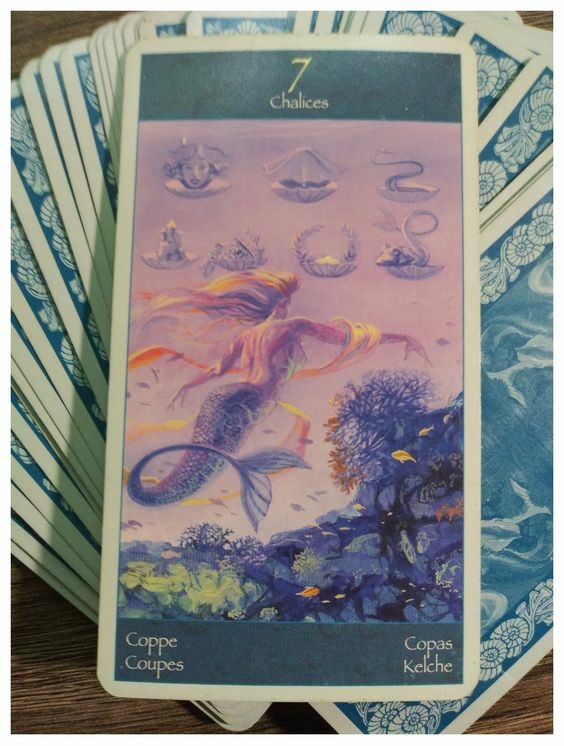 When drawn on reverse, the 7 of Cups indicates an imbalance between fantasy and reality. For some of you this means you might be trying to ignore your realty by daydreaming or something similar, but for most of you this is about your inability to imagine anything better for yourself than your current circumstances.
Wishing things were different or easier is not enough. If there were no limitations, what would you want to do or be? Now take a good look at what you've imagined and ask yourself if it really is as unobtainable as you think it is. You may find parts of this imagining to be out of your reach but you will also discover just how possible other parts are, and that is the space where dreams are created and attained.
Of course when we try to imagine better we often find ourselves full of self-doubt or realize that we may have to take risks. We know that persuing something so different from our current reality comes with it's own risks and uncertainties but nothing good is attained without risk and vulnerability.
Of course there is always a chance you might fail but that is part of the process as well. We fail, we get back up and try again with better information. Our failures also have the incredible ability to put us on a path we never would have imagined.
You will be uncomfortable, uncertain, and vulnerable because you will have to learn to navigate this path as you go. We don't start as masters of our craft (or life), we start out as a novice and become a master through practice, experience, and learning from our mistakes.
Do not limit yourself to your current circumstances, there is a whole world of possibility available to you if you can only believe in it enough to try.
Today's Deck: