Tarot/Oracle Card of the Day – Enter the Temple Invisible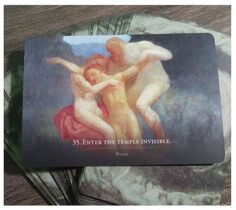 Today's card invites us to take a look at how we pray. Whether you pray to a god or send your wishes out to the cosmos, it is important to send gratitude for what you have as well.
When we are not grateful for what we have, we are not able to fully appreciate what may come. When we are grateful we are open to more of the things that truly fulfill us and invite even more.
When's the last time you counted your blessings? Are you so focused on what you don't have that you are unable to appreciate your blessings? Put aside your wants and wishes for today and focus on what is right in front of you.
Today's Deck: