The Biome – A Message for the Collective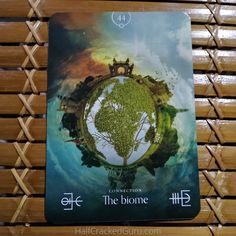 I pulled this card for myself, getting to know my new deck, but this is a message for all of us. The Biome is a reminder that we are all connected.
We are taught to strive for self-sufficiency. Success is often defined by your ability to do all the things on your own, and this is a big problem. It's all about survival of the fittest. This mentality is one of the biggest contributors to our depression and anxiety.
We're not supposed to just trample each other to gain advantage, we're supposed to help each other. Despite being made from all the same stuff, we are each unique in what we have to offer to our tribe and our earthly home.
Be aware of the needs of others, in a healthy way of course. Maybe think about involving yourself in your community. Some of you might want to start paying more attention to the microbiomes within your body.
It's all about balancing and harmonizing with the understanding that something small can cause the whole thing to go out of whack.