The Mirror – A Message for Collective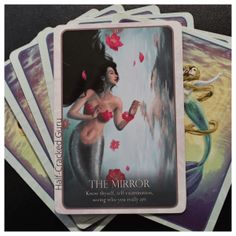 If you're trying to figure out who you are, you will have to stop viewing yourself through the lens of what you think other people want to see.
You are more than scars and a jiggly belly, more than the new shoes you bought and the job you excel at. You are more than a parent or lover, more than the sadness you cover with your smile.
We are a sum of all the things we have been and experienced. You cannot be at peace with yourself if you avoid the prickly parts. Finding that peace requires you to be unapologetically you, the whole you.
There are certain things we really hate about ourselves, we spend our lives trying to overcome them when we really should be accepting that this is just a part of who we are.
We should always be changing and improving but we can't do much of either if we don't try to fully accept that this is a part of us for better or worse. Maybe it's something you can work on, maybe it's something that will always be, right now it just is.
Today's Crystals:
Today's Deck: