The Queen and the Commander – A Message for the Collective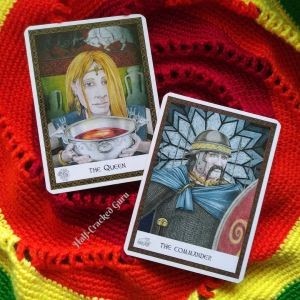 These two cards jumping out together tells me that we need a little reminder of what masculinity and femininity really is. Every last one of us has a mixture of both.
Our divine feminine is responsible for creation and nurturing. It first dreams of new ideas, concepts, and actual life, then births it into reality. Our divine masculine helps to give it structure and fuel it's growth. Both work together to ensure the best possible outcome.
"Toxic" masculinity or "weak" femininity are a result of centuries of social conditioning that preferred one over the other instead of placing importance on balance and cooperation.
We're now starting to close that particular history book so we can write our future. However you identify with your gender, it's time to examine those particularly male or female qualities that you look down on with distaste. Are they really what you think they are, or is that just what you were raised to believe? They're all parts of you that need tending.
Today's Crystals:
Today's Deck: