What is going on? Oh yeah, another full moon, take advantage of its energy!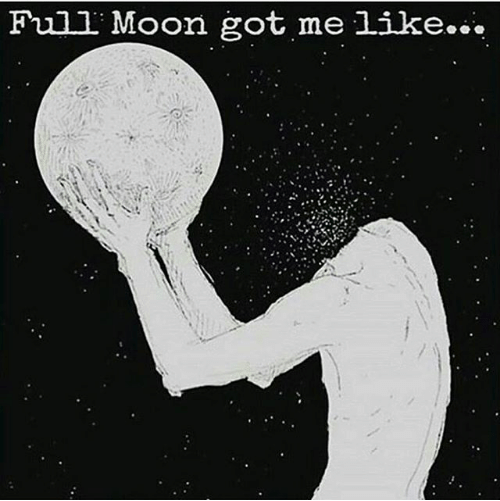 Well no wonder we've had a collective case of chaotic brain! This weekend the full moon, aka the Full Snow Moon is showering us with all sorts of energy, so make sure you try to harness it instead of letting it spank you!
The full moon, in general is a time to harvest the seeds you planted a few weeks previous during the new moon. The Snow Moon is also known as the Hunger Moon because food was scarce at this time before we had grocery stores and all that.
Chances are that many of your chaotic thoughts center around what you lack. Use the energy available to you now to find both temporary and long term creative solutions to these issues. Maybe you are unable to fix these issues but you can find ways to make the best of them and possibly even use them to create something new in your life.
The best way to do this right now? Don't hurt yourself trying to rack your brain for solutions, just dance. Dance, sing, write, draw, cook something new, take a different way home from work, you get the point!
While you occupy yourself in a fun and creative way, you allow your brain to get some work done behind the scenes without mucking it up by over thinking. In other words, it will help you to stay out of your own way. Our subconscious does far more work than you think so let it do its thing!
The new moon will hit on the 23rd and that will be the time to pull those thoughts into the forefront again. That's when you want to analyze a bit more so you can clean that slate a little and set intentions for the next cycle.