Tarot/Oracle Card of the Day – To Be Fair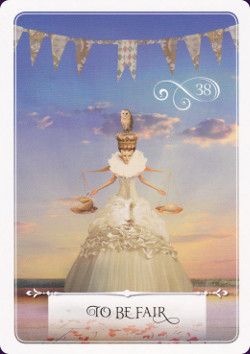 Today's card reminds us that our actions have consequenses. The seeds you sow and how you care for them have a direct effect on your harvest.
When dealing with personal relationships, you want to be heard and valued so make sure you are hearing and valuing the people in your life. In business dealings it is quite similar, helping others to prosper usually brings prosperity to you. In both cases, if you are being fair and they are not, you may want to consider planting your seeds in a more fertile area.
Do not worry about the karma of those who have wronged you, their actions have consequenses even if you do not see them. Use your anger and pain to fuel the creation of better in your life and you will find the anger and pain will change into pride and peace.
If you have wronged others and cannot find forgiveness from them or yourself, consider serving those less fortunate than you and putting your whole heart into spreading light and love. We all make mistakes but we do not have to remain "that" person.
Today's Deck: