Tarot Reader, Writer, Freelancer, Armchair Philosopher, Computer Geek, Maker of Stuff and Things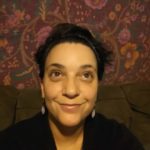 My Story
Hi! My name is Trish, and I hate talking about myself 🙂
First, I am a mother of two adult children who make me proud af. We really went through it and I'm so very grateful, in awe, for the people they've become. Everything I do, still, I do for them.
Second, I'm one of those people who gave far too much of my life force to corporate crap. In fact, I gave so much that it actually made me sick and I still gave all I had until I had no choice. My whole world fell to pieces around me, not for the first time by the way. The real kicker is that as much as I poured into making other people money for decades, as good as I was at what I did, I was never quite able to make ends meet. I became so sick that I lost my job and apartment, so desperate that potential employers wanted nothing to do with me.
I continued to submit my resume, with no luck, until I was scheduled for surgery. At that time my whole focus shifted. I had 0 income and now needed something I could do while recovering from surgery, something I could do while lying down. It was in this darkness that Half-Cracked Guru was born. I've been reading tarot, for free, since I was a teenager and figured that offering that service online would help me get through. I have also loved writing over all things so this was also the perfect opportunity to make that something that I would actually share with others.
Since then, I have been working hard at setting up multiple streams of income so I'm pretty much always working. However, I love what I do so I rarely feel like I'm working unless I've overdone it enough for my health issues to flare up. I'm still not making enough to actually live on, but I've created strong foundations to build upon and all that's needed now is time for my garden to grow. I can't tell you how wonderful it feels to be able to take a day off when needed without being made to feel guilty or worried about losing money In my paycheck. I've been working since I was 14 and I've never made so little money or felt so incredibly abundant. Life is different on the other side of the grind.
My Mission
My mission is to inspire you and improve the way we work and feel as a global society. I want to use my traumas and trials to help you get to the other side of your own. I want to help you dance with your shadow instead of fighting it, find trust and belief where there is cynicism and love where there is fear and anger. Together we can change the world 💙
What Can I Do for You?
On this site, you will find hundreds of (free) helpful and inspiring posts, carefully cultivated items in my shop, and a (free) knowledge base that is frequently updated. Use the search function to find posts on all the things from anxiety to zombies…seriously I found a zombie oracle deck! This site has been created and maintained by me so please feel free to reach out if you find any issues or would like to provide feedback.
I still do personal readings but it is my hope that you will find just what you need on this site for free.
If you would like to show a little love or look for your next deck then hit one of the buttons below ⬇⬇⬇
I am also a freelancer who does administrative work, Airtable databases, and all things WordPress. you can find me on Fiverr or send me an email to request an estimate for service.
Song of the Day may be offensive to some, so listen with discretion.
I am not a doctor. Advice from the "Message from the Universe" and other posts is meant to help with spiritual and self-development in conjunction with medical treatment, not to replace it. If you are depressed or in a bad situation, please seek help from the medical and/or charitable places that are local to you. I want you to be healthy in body, mind, and spirit 💙
I am also not the artist or author who created the decks used for the "Message from the Universe" posts. However, the pictures of the cards, the interpretation, and the written words in blog posts are created by me. You can find the decks and crystals I use in my shop along with a bunch of other stuff 🙂