A Message from the Universe – Keep Your Cool!
Today's Message from the Universe is reminding you not to lose your cool.
Yes, there is finally movement in that situation you were stuck in for so long. It is not, however, smooth sailing from here. You might be sailing into calmer waters but this is new territory and you must first learn the lay of the land in order to make this transition run as peacefully and smoothly as possible.
There is a sense of frustration with today's message so you may need to be reminded that starting anything new might make you feel small and stupid. This is especially true if you're a perfectionist or over-thinker. It took you years, even a lifetime, to learn the habits and patterns you're trying to get away from so you can't expect such big life changes to be fully formed and perfect overnight.
You have new skills to learn and new things for your new, brave self to try.
Now is not the time to aim all your energy toward the "how". This is the time to know that you have taken the necessary steps for now. It is time to be patient and kind to yourself. Open that heart chakra up and let observation and curiosity guide you. Every new thing requires at least a little trial and error, so be open and willing to fail. You must first try something to find out how it works or fits. Just take the next best step and let the universe take care of the rest.
Today's Crystals:
Today's Deck:
Today's Songs:
Incubus, I Wish You Were Here
The Used, Box of Sharp Objects
Song of the Day may be offensive to some, so listen with discretion.
I am not a doctor. Advice from the "Message from the Universe" and other posts is meant to help with spiritual and self-development in conjunction with medical treatment, not to replace it. If you are depressed or in a bad situation, please seek help from the medical and/or charitable places that are local to you. I want you to be healthy in body, mind, and spirit 💙
I am also not the artist or author who created the decks used for the "Message from the Universe" posts. However, the pictures of the cards, the interpretation, and the written words in blog posts are created by me. You can find the decks and crystals I use in my shop along with a bunch of other stuff 🙂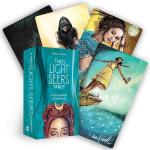 Light Seer's Tarot
I fell in love with these after seeing another reader use them. They're beautiful 😍
Buy them via affiliate link here ➡ Light Seer's Tarot
See posts that use this deck ➡ Light Seer's Tarot Posts