Is this Journey Inappropriate for You or are You Letting Fear Hold You Back?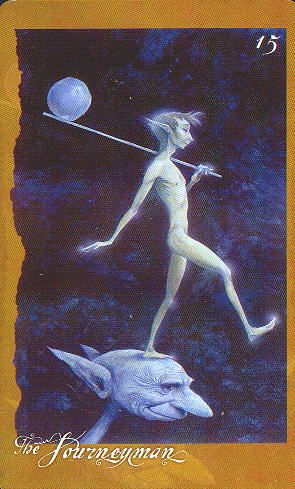 The Journeyman showed up in reverse for today's message. This indicates that a journey you are considering is either inappropriate for you at this time or you are allowing your own doubts and fears to keep you from taking that first step.
It's not always easy to figure out which is the case here so take a step back and look at the big picture. Is this particular journey aligned with what it is you are seeking or are you running away from something you should be dealing with? If you're feeling desperate to move don't take the first opportunity that becomes available to you because you will create another desperate situation. It's also possible that there are just more loose ends to tie up or more preparation is necessary before you can set out. It may not be time just yet.
If you are doubting your own ability to make this journey or thinking of all the things that can go wrong, you are being advised to make that jump. This is just your brain making excuses because it does not like uncertainty. You absolutely can do this and you will be kicking yourself if you miss this opportunity just because you let your fear get the better of you.
Either way, when you think about these moves you'd like to make, it is best to step back and look at the big picture so you can remove some of the emotional aspect from your decision making. What does this journey mean to you?
Today's Deck: